Bridgeland Away Meet 6/10 Details
June 8th
Happy Almost Friday!
We have an away meet this Saturday 6/10 at Bridgeland:
16902 Bridgeland Landing
Cypress, TX 77433
This is about an hour drive give or take from our home pool so its going to be an early morning with the commute.
Circle In: 6:45 AM
Warm up: 7:30-8:00 AM
Meet Start: 8:30 AM
We are still short some 2nd shift volunteers so circle in and sign in for your volunteer shift as soon as you arrive because I will have to move the last to sign in to second shift to fill the missing spots. If you have still not fulfilled your volunteer shifts, please reach out to me and I can put you in our open spots.
From the Bridgeland Barracudas:
We ask for the safety of both residents and swimmers that you park in designated areas only. Please refer to the aerial map that can be downloaded below. Do not park in any areas marked in red, as your vehicle may be towed if it is parked there. During swim meets, the south activity center parking lot (next to the playground equipment) is limited to parking pass holders only. Please only park on one side of the street, as Bridgeland roads are narrow and often there is not enough space for cars to drive through when vehicles are parked on both sides of the street. Do not park within 15 feet of fire hydrants, 20 feet or a crosswalk or intersection, in the roundabouts, or within 30 feet of a stop sign - these are all standard Texas laws and subdivision requirements, and please observe speed limits. Cars may be towed if parked in the areas marked as "No Parking".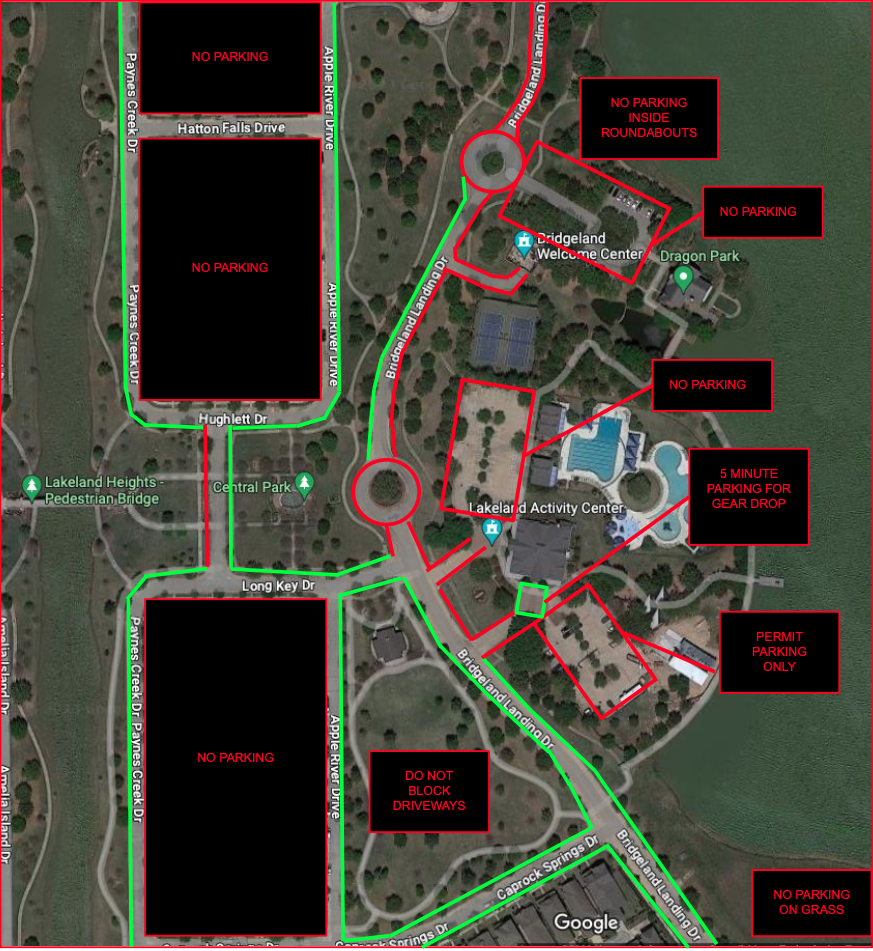 Visiting Team Set Up:
The visiting team area is located to the left of the pool and to the west on the other side of the parking area. The Dock area, Tennis Courts, Back Swimming Pool Area, and Splash Pad are off limits, and we ask that you remind parents to keep a careful eye on all swimmers to keep them away from these areas. Restrooms are located just inside the pool, near the main entrance.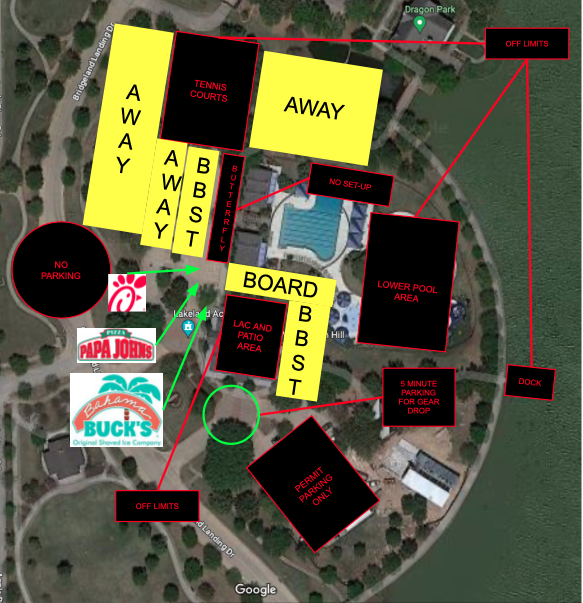 Pool Entry and Swimmer Flow
All swimmers will enter the side gate to the left of the main pool entrance. This entrance is limited to on deck personnel and swimmers only. Parents are not allowed to be in this area. Swimmers will proceed down to the ready block where they will be sorted. Following their swims, they should get coaches feedback and exit the pool to through the side gate.
Parents are limited to the on deck areas opposite the ready bench/blocks and to the side of the pools. The diving wells and boards are off limits to swimmers and spectators.
Due to limited spectator spaces, please be courteous of those around you and do not camp in this area.
Timeline:
Home warm-ups start at 7:00 am. Visiting team warm-ups start at 7:30am. Morning relay changes need to be presented by your Clerk of Course to Computers by 7:30 am. Please come with your changes ready, as each team will be given 15 minutes for their changes. The officials meeting will begin at 8:00 am and the Timers meeting will begin at 8:15 am. The meet is scheduled to start at 8:30 am with swimmers in the water.
Heat Sheets:
We no longer print heat sheets. We use the Swimtopia app.
Concessions:
Chick-Fil-A will be on site for breakfast/lunch, Papa Johns will be selling pizzas, and Bahama Bucks will have a truck as well. We will have limited concessions selling snacks and drinks.
I'm looking forward to another meet of breaking personal and team records!! Let's lay it all out in the pool, and give it our all! Swim Fast & Furious Rattlesnakes!!
Drive safe and we'll see you bright and early Saturday morning!
Courtney Johnston